Team Konrad Reuland
Konrad was filling out his driver's license renewal in April 2016. "Mom, do you think that I should be an organ donor?" he asked. "Sweetie, that is totally a personal decision, you have to do what feels right to you," I replied. "Are you, mom?" he asked. "Yes, I am. I figured that if I couldn't use them (my organs) any more and it could help someone else, why not?" I responded. "I'm going to do it!" was his final decision. Eight months later, two days after Thanksgiving, Konrad was lifting weights and felt a "click" in his head followed by an intense headache. His father, a doctor, advised him to go immediately to the ER. We wanted to rule out a brain aneurysm. By the time that we met him at the ER, it had already been discovered that he did indeed have an aneurysm, and it was bad. Very large and in a terrible location. Four days later it ruptured and Konrad underwent a 17 hour surgery to try to save his life. He survived for 12 days, in a coma, never regaining consciousness.
Konrad had lived his dream. He graduated from Stanford University and went on to play in the NFL, two goals that he had set for himself when he was a child. Konrad took his profession very seriously and was in the best shape of his life. Everything that he did was calculated. From making sure that he ate the right foods, not drinking in excess, and getting plenty of rest. He worked out every day. Konrad was a large young man standing 6'6" and weighing 270 lbs. He also had a large enthusiasm and passion for life, family and friends. The oldest of three boys, he was the "glue" of the family. He had the dual roles of being the youngest adult and the oldest kid, both of which he fulfilled admirably. His appetite for everything was also large! When you had a meal w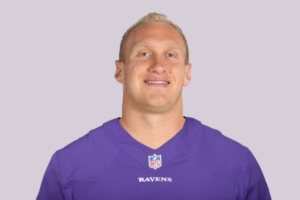 ith Konrad, it was an event. When he was around, everyone was sure to have a fantastic time. With his infectious laugh and fun loving nature, you couldn't help but laugh and have a good time with him. He was always quick to lend a helping hand when it was needed. This is evident in the fact that in his final act he selflessly donated his organs and tissue so that others could be saved or helped. He lives on and is still helping others. Our pride in Konrad is never ending. He is forever in our hearts and thoughts.
View More
To make a contribution, please click on the "Give Now" button on this screen or ifyou wish to mail in your contribution, please follow the link below to download a printable contribution form to mail in with your form of payment.
View More
Achievements
No Badges Have Been Earned
Team Honor Roll
Dennis & Joyce Fujioka
$50
Miranda is amazing: Carnes and Minter
$50
Tom & Kathryn Beattie
$60
Top Contributors
Alexandra Bona
Anonymous
The Chadd Family
Kevin McCracken
Matt